3 Ways to Use Paint to Create Drama in Your Bedroom
Paint is often thought of as a foundational element that coats our walls, but it's so much more. While wallpaper, wall decals, and textured wall coverings, add depth and colour, you can use a variety of treatments to create different effects and focal points—including paint. Paint is equally as diverse as other wall treatments and can be used to add ambience and drama in your bedroom.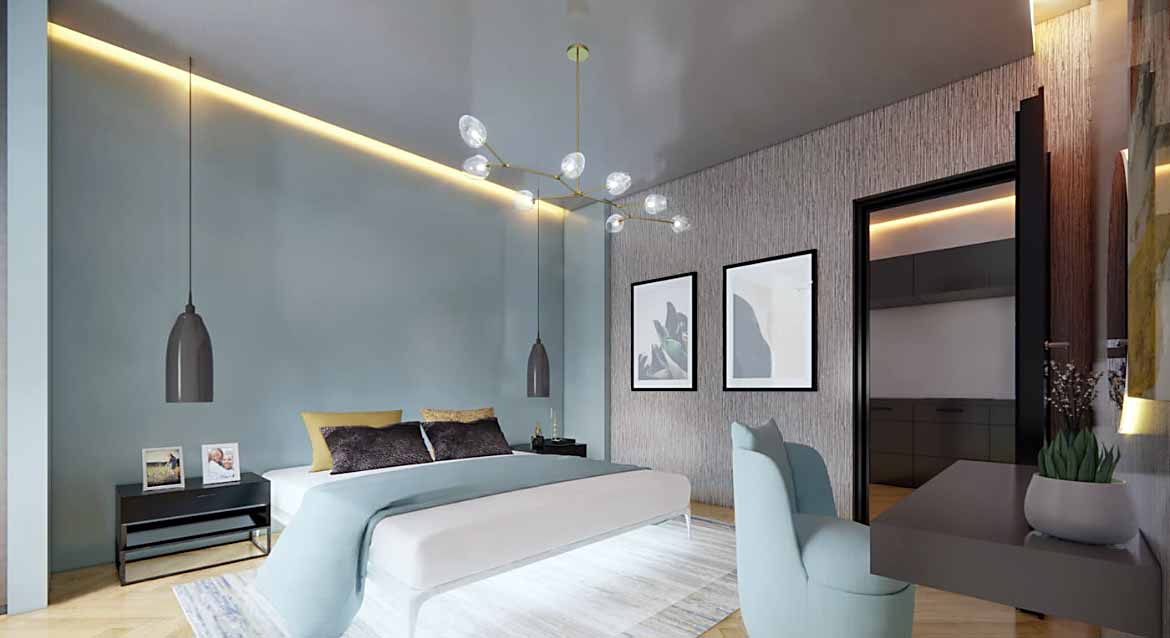 There are a variety of bed designs to choose from, and many beds come standard with wooden or upholstered headboards—or are designed to easily attach your headboard of choice.
If your bed doesn't have a headboard, you can create the illusion of a headboard with paint. This works in bedrooms of any size creating a unique finishing touch. It is also a cost – effective solution that can maximise your design budget. The money you save can be invested in other key pieces in your bedroom or other areas of your home. Here are some painted headboard.
You can achieve this look using a platform or divan base. Further elevate this look by hanging artwork and decorative elements. Experiment with different options to add depth. For example, you could add one large piece of artwork, display multiple pieces of art on a floating shelf, or create a gallery-style display of multiple pieces of art. I have two Instagram posts that demonstrate different ways to style artwork with floating shelves and using art to create a gallery wall.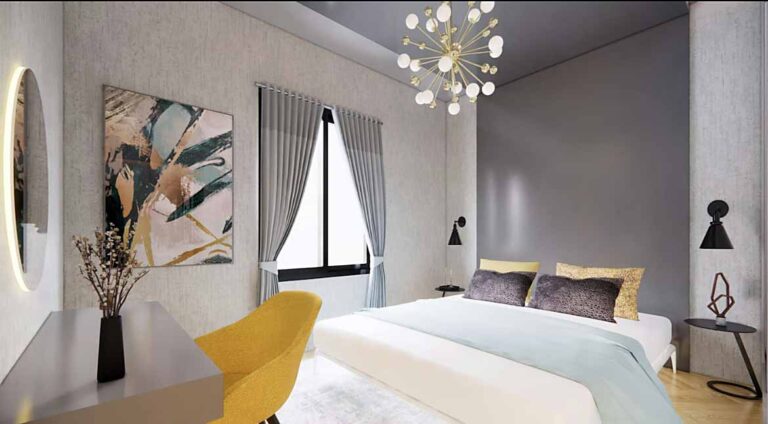 Stripes are a fun way to play with paint. From vertical to horizontal, diagonal, and colour-blocked stripes.
When done right, stripes make small bedrooms feel larger. Whether a room is small or large, stripes also create a focal point.
If you are considering stripes, think beyond your bedroom to your entire home. This Living etc article highlights stunning ways to create signature details throughout your home with painted stripes.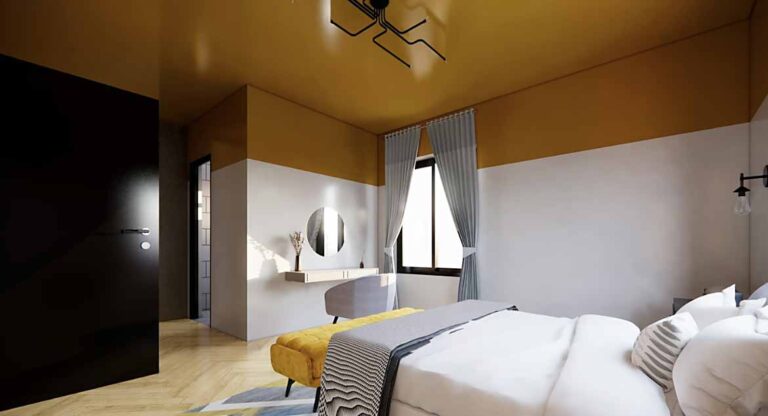 Painting your ceiling darker than the wall coverings or wall paint is the equivalent of placing a big blanket over the entire room. This technique is ideal in the bedroom as it creates a cosy and intimate look and feel!
Two-toned ceilings and walls are particularly effective in bedrooms with ultra-high ceilings that feel overwhelming to paint, cover, or stylise.
On the flip side, if your ceilings are low and you want to create the illusion of height, paint your ceilings a lighter colour than the wall paint or wall covering.  
Inspired to Give Stylised Paint a Try?
The images used in the examples above were created as part of TMX Designs 3D design services for a client in Nigeria. Our 3D design software allows us to create a realistic digital model of your interior design before we begin your project. It also allows us to provide our interior design services for clients worldwide.
Whether local or international, 3D design minimizes errors and uncertainties. We can easily swap out different design elements ensuring you love your design before we begin. This saves time, money, and stress.
Reach out today to learn more about our 3D design services and full-service interior design!